Hello everyone 1sec WELCOME TO TECH VIPIN TECHNOLOGY TODAY KNOW- How to increase AdSense CTR 100% Guaranteed
Bloggers Do you guys want to know how to increase AdSense CTR ? If yes then through this article we are going to provide complete information on how to increase AdSense CTR (click through rate) by 10% . If your CTR is good then your AdSense CPC can also increase. In this post, you will also know what is Google AdSense CTR , as well as people who get AdSense Ad Limit, it is somewhere due to High CTR, so increasing more Click Through Rate is also right for your website and AdSense Account. No, you should just keep AdSense CTR Maintain from 5% to 12%.
We all know that after AdSense CPC, AdSense CTR is the important thing that can increase or decrease the earning of our Google Adsense. That is why along with increasing the CTR of Google AdSense, the focus should be on increasing the AdSense CPC as well. Let's see AdSense CTR Kaise Badhaye or How to Increase AdSense CTR
What is AdSense CTR?
The full form of CTR is "Click Through Rate" and it means the rate of how much visitors clicked on the Ads coming to your website. Two things play an important role in earning more money from AdSense, in which one is your CPC and the other is your AdSense Page CTR and the higher these two are, the higher your earning will be. Let me explain you better with the help of an example.
Suppose 100 people visit a blog every day, then your total traffic will be of 100 users and 100 users will go through at least 100 page views. Now assuming at least 100 Ads Impression is happening on your blog in 100 Page Views and 5 Clicks happen then your CTR will be 5%.
How to increase AdSense CTR?
Friends, to increase AdSense CTR, I am giving you some very important information below, if you follow it, there can be a tremendous increase in your Adsense CTR.
1. Use Blocking Control in AdSense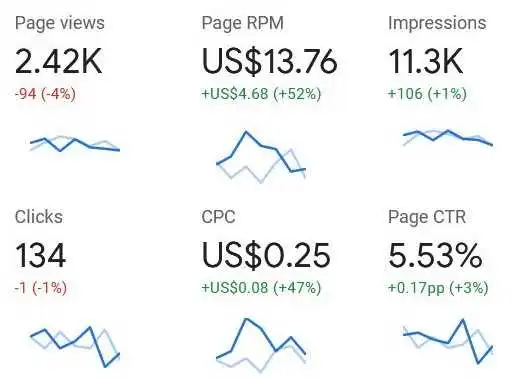 There is a feature called Blocking Control inside Google Adsense, using which you can block those advertisements which do not match the user's interest, this directly affects your AdSense CTR.
Adsense has such advertisers who pay very little money to Google to run Ads, the effect of which is that their Ads are not attractive and the user does not even click on them.
The bottom of your blog is related to finance and if Facebook ads come on your site, then no one will click on those ads because it is very different from the user's interest.
2. Do the right Ads Placement
Ad placement has the biggest role in increasing CTR because the better you place the ads, the more chances are there that your ads will get clicked and your AdSense CTR will also increase.
If your blog post is of less words, then you should not place more ads, otherwise there is a risk of Ad Limit and at the same time you will get very less CPC, so use minimum ads so that the speed of your website is also good.
If you share High Quality Content on your blog, then you will never get AdSense Low Value Content Error . Let us now tell that where you should do ads placement so that your AdSense CTR can be increased.
| | |
| --- | --- |
| 1st Ads | Before Title |
| 2st Ads | Before Paragraph 1 |
| 3st Ads | After Paragraph 3 |
| 4st Ads | After Paragraph 6 |
| 5st Ads | After Content |
| 6st Ads | Before Comments |
Adsense Ads Placement
3. Reduce Bounce Rate
Bounce rates of many bloggers are very high because they do not have good knowledge that how to reduce the bounce rate and increase the Adsense CTR. To reduce the bounce rate, you just have to do good internal linking inside your post. If you do internal linking well, then the user will read your other posts as well and ads will appear there, which will also increase the chances of getting clicked, as a result of which your AdSense CTR will increase.
To reduce the bounce rate, you can also focus on increasing the speed of your website and there are many such important WordPress Plugins using which you can optimize your website.
4. Write High Quality Content by Doing Keyword Research
Many new bloggers write so badly that as soon as the user comes to their site, instead of reading the post immediately, they go back, that is why they write well by doing Keyword Research in Hindi .
The better you write the post, the longer the user will stay on your website and other posts will also be posted. During all these process, a lot of ads will be visible on which clicks will also come and your ctr will improve.
5. Increase Organic Traffic on Blog
There are many bloggers whose website does not have traffic at all, yet they are worried about how to increase AdSense Ctr? See friends, you should focus on increasing Ctr only when good traffic is coming on your blog, otherwise there is a risk of AdSense being disabled .
In Organic Traffic, the user comes to your site from Google by entering keywords and the ads that appear at that time are related to the user's interest, so a lot of clicks come on them and your Adsense ctr increases.
6. Create fewer categories on the blog
Most Blogs are Multiniche because of which they have the problem of ctr low, so do not make this mistake. The fewer categories there are on your blog, the more categories related ads will come and the clicks will also be good.
7. Don't put too many ads
If you will put more ads on your website then your Ad Impression will be more and clicks will come less due to which your CTR will be very low. You should apply AdSense ads according to your content length . The more Word posts you write, the more Google Adsense allows you to place ads in the middle of the post. If you add more ads now, your website speed will also slow down. User Experience will be bad.
8. What is AdSense CTR? Auto Ads and Manual Ads
If you want to increase your Adsense ctr, then you must use both Auto Ads and Manual Ads, it can prove beneficial for you. It is important that you keep moving the place of ads here and there so that it can be understood that where ads are getting more clicks.
Hello everyone 1sec WELCOME TO TECH VIPIN TECHNOLOGY TODAY KNOW- How to increase AdSense CTR 100% Guaranteed
Conclusion:-
You keep experimenting, like by placing Ads at different places, try increasing the speed of your website, by doing this your AdSense CTR will start improving. If you liked the article, then share this article and keep receiving our new post information by Pressing Notification Bell .
This was our article How to Increase Adsense CTR – How To Increase Adsense CTR In Hindi and it is expected that by following all the CTR Increasing Tips we have mentioned, your Adsense CTR will definitely be Boosted.
Hello everyone 1sec WELCOME TO TECH VIPIN TECHNOLOGY TODAY KNOW- How to increase AdSense CTR 100% Guaranteed